An Easy Decision For Lovie
April 11th, 2014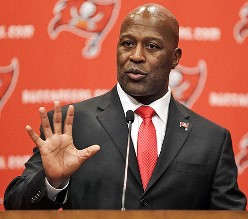 When the dinner bell rang to start the free agency signing period last month, it took Bucs general manager Jason Licht and coach Lovie Smith all but a few hours to find their man to lead the Bucs offense: Josh McCown.
Many are willing to start digging Mike Glennon's grave with the Bucs as a result. But in an NFL Network interview that aired last night, Lovie explained the decision to go get McCown came down to two factors: knowledge and numbers.
"4-12 isn't good enough; it is simple as that," Lovie said. "As a coach you base your initial starting rotation — is what I like to say — based on what you know about players. And I know an awful lot about Josh McCown. I've seen him play. I've been in meetings with him. I've talked to him. I know his football knowledge. I know his leadership ability.

"Everything you are looking for in a quarterback, he has. So that was an easy decision. It's not a knock on Mike Glennon at all. It's about improving and strengthening the quarterback position and that is what we have done."
One thing Lovie always said when he spoke about players from last year's squad, he always qualified his offerings with, "But we were 4-12." Translation: The Bucs stunk, as if you didn't know. What Lovie didn't say — he was being a diplomat — was that the Bucs also had the No. 32-ranked offense last year, led by Glennon.
But another element why Lovie got McCown he also touched upon. It was both a comfort level and familiarity. Lovie had never met Glennon until he was named Bucs coach. So in a span of maybe nine weeks, Lovie had to decide if he was going to hand the keys to his offense to a guy he didn't know, a guy with a poor record and little experience. Or Lovie could get another driver he did know and trust, someone who showed at least a modicum of ability to get the job done last year.
That doesn't seem all that difficult to grasp.