Is Preseason Hype Really "Bogus?"
April 10th, 2014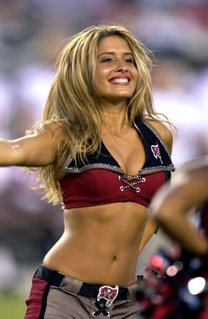 The Buccaneers open their 2014 preseason in Jacksonville. And even if the new version of Lovieball and its mysterious offense is squaring up against a Johnny Football-led Jaguars team before a sold out crowd, there's no way to call that an intriguing matchup.
That's the order from the Custodian of Canton, the only local Hall of Fame voter, Tampa Tribune writer eye-RAH! Kaufman.
Kaufman, via Twitter, cut right to the meat of his distaste for preseason hype with precision, much like his no-nonsense serves on tennis courts across the Bay area. He said anyone hyping a preseason game is all but a snake oil salesman.
ikaufmanTBO – Any story that touts an NFL preseason matchup as intriguing is bogus. Exhibition games are simply glorified scrimmages — at full price
Now Joe must quibble with Kaufman here. Yes, preseason games are glorified scrimmages. Absolutely. But please don't tell Joe there's no intrigue. There is. It's why legions of hardcore fans pay attention. More often than not there are multiple storylines of legitimate interest.
Off the top of Joe's head, Joe would be intrigued to see Carl Nicks square off against Roy Miller in the preseason opener. Nicks absolutely manhandled Miller like a rag doll a few years ago, so that might be a nice barometer to use, assuming the human armoire can get on the field. If Nicks is hurt, then Joe will take his intrigue example to the Bucs' juiced up defensive line and what they can do rushing only four guys against a bad Jacksonville O-line. The list goes on. Last year, Josh Freeman's lack of reps in preseason was a huge story, and possibly a costly one for the Bucs.
As for the full-price nature of preseason games, Joe's yet to see an NFL team hold a gun to anyone's head to buy tickets. If the NFL cut the preseason schedule or teams charged less for those games, then inevitably prices would increase for regular season games. Owners will get their money one way or the other, so Joe really doesn't care about preseason ticket prices.
The Bills, when the Bucs play there in preseason, will be hosting their annual Kids' Day, when youth tickets are $15 and there are all kinds of kids events at the stadium before the game. Again, Joe doesn't care about ticket prices, but there are teams adding value to their preseason.
Joe just wanted to take a stand for the preseason. Yeah, starters only play a little, but Joe knows there's real excitement and intrigue in the hours leading up to some of the preseason kickoffs. And the opening look at the summer-sweaty cheerleaders is good enough for Joe.