Ugly Number For Mike Glennon
March 3rd, 2014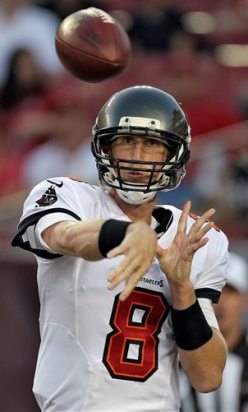 Yes, "this Joe" got burned out talking about Mike Glennon. It's clear from comments made by Bucs coach Lovie Smith and general manager Jason Licht that they are intent on securing competition for Glennon. If he wins the competition, then more power to the guy.
Joe understands this. While Glennon showed glimpses of good last season and may have been forced into an ugly pickle, at the end of the day he still quarterbacked the worst offense in the NFL.
But Joe came across an equally ugly number of Glennon's.
In the long run this statistic may not mean squat, but on the surface it is troubling. Since the 2008 NFL Scouting Combine, quarterbacks' passes are clocked by radar guns. Glennon was recorded throwing 50 mph.
So? Since when are NFL quarterbacks are judged like MLB pitchers on velocity of their fastballs? But, per Ourlands, no quarterback they have recorded throwing 50 mph or slower has done anything but torment NFL fans.
You can monitor the results via the link above, but here is the motley list of quarterbacks who also recorded combine-passing velocity at 50 mph or slower: Connor Shaw, Aaron Corp, Ricky Stanzi, Tyrod Taylor, Jarrett Brown, John Skelton, Dan LeFevour, Tony Pike, Armanti Edwards, Matt Flynn, Josh Johnson and Colt Brennan.
If Glennon does win the starting job this summer and continues to put up pedestrian numbers, then this is a statistic to keep in mind.