There Is No Reason To Employ Myron Lewis
November 4th, 2012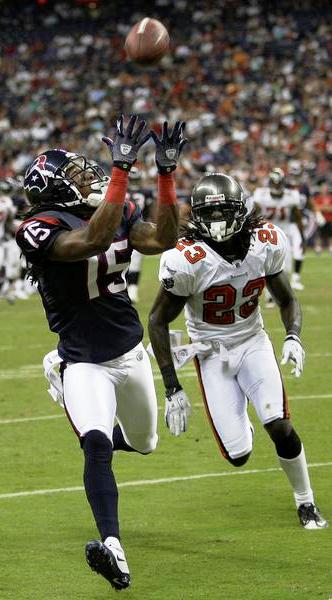 At the risk of irritating the wrong people at One Buc Palace, Joe can no longer bite his tongue without losing his credibility.
The time has come to wave goodbye to Myron Lewis.
Myron Lewis, from the moment he signed with the Bucs, has been nothing but an empty uniform, a waste of a roster spot. Sure, early on, there was reason to give him plenty of rope. The guy was a rookie, then a second-year man and he was always hurt.
But when healthy, he couldn't play; not a lick. Now in his third season, it is painfully obvious that there are guys walking the streets in early November that can play just as well (or more accurately, just as pathetic) as Lewis.
Today was the last straw for Joe. With Leonard Johnson getting dinged up, Lewis came in to replace him (and Joe Twittered that this was going to be an adventure). And sure enough Marcel Reese ran a circle around Lewis, totally schooling Lewis for an 11-yard touchdown.
Typical Myron Lewis.
Joe's freaking had it with this guy!
Joe knows why Lewis is still on the roster. He was drafted by Bucs rock star general manager Mark Dominik. But not even Kevin Colbert or Ted Thompson are perfect. They make mistakes too.
It's time for Dominik to admit the mistake of Myron Lewis and for the sake of the team that is now in a wild card race, give Lewis his walking papers! Do the right thing Mark.
Currently, Lewis is worse than Sabby the Goat. And Dominik did the right thing with Sabby the Goat and put Sabby the Goat out to pasture in the middle of the season where he could chew on tin cans to his heart's content.
And Sabby the Goat was a worse mistake than Lewis. Sabby the Goat was a second-round pick if you can imagine such a thing!
For the sake of the Bucs, Mark, get rid of Lewis. He's killing this team and may just kill the team's wild card hopes the way he gets grilled so often. It's not fair to the rest of the hard-working professionals on this team to keep Lewis on the roster for no good reason.
Come Tuesday, the Bucs should be holding tryouts at One Buc Palace to fill the void left by Lewis' departure.
Even with Lewis on the roster, there's a void already there.
There is no logical reason to continue this illogical nightmare.
Myron Lewis should be cut. Now. Time to come to grips that a mistake was made and move on.