Mason Foster And Pineapple
November 3rd, 2012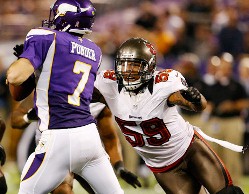 Joe thought he'd take a break in Aqib Talib coverage to bring you a breezy, Saturday feel-good post while you take a break from college football and guzzling beer.
Damn, when looking at how the Bucs have played this year — even in losses — and to remember that friggin' horror show fans were ambushed with week after grotesque week last year, it's like a whole new team.
Even though the Bucs are one game below .500, this year's bunch (there's a Hubert Mizell word for you) seems light years better, and frankly is a breath of fresh air.
Joe has typed this before and stands by his words: There is no more improved player for the Bucs than middle linebacker Mason Foster. It's like he's a new man.
This has not been lost on Pat Yasinskas of ESPN.com who, in an NFC South chat, even invoked the Pro Bowl when discussing Foster.
Karthik (San Jose)

Do you think Mason Foster will get Pro Bowl consideration if he continues to play at this level? He's near the top of the league in tackles and makes numerous plays in the backfield

Pat Yasinskas

Possibly. Know he's getting heavy consideration for All-NFC South midseason team that will run next week.
The Bucs linebacker play has been amazing. Sure, it's helped that Quincy Black has shown up. Sure, it's helped that Lavonte David has been everything Joe wrote about last winter and more.
But Foster has been the rock of the Bucs defense, simply playing amazing football.
Joe told this to Foster's face not long ago, and let's just say Foster liked what Joe said: "You should have some pineapple in your belly come February."