Bucs Will Need LeGarrette Blount
November 4th, 2012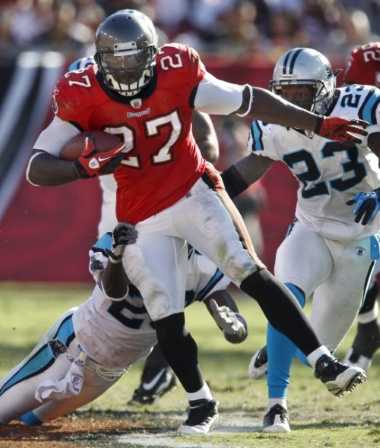 Joe is a big LeGarrette Blount guy as readers know. But Joe is sensing a turning point in the clamoring for Blount by Bucs fans.
Blount has had more than a few chances to show Bucs coach Greg Schiano he should get more carries. Outside of a run or two, it's hard to see why Blount should get more carries given the success of Doug Martin. Even Joe can see this.
Doug Martin seems to be getting better and better every week and his dazzling performance against the Vikings was what Bucs fans have been waiting for. This is yet another reason that Blount won't get many carries.
Woody Cummings of the Tampa Tribune types that, despite his limited carries and not much to justify more, the Bucs will need Blount down the road this season.
Though the idea of trading RB LeGarrette Blount grew legs on local sports-talk radio, it never gained traction at One Buc Place, where Dominik was wary of the possibility of history repeating itself.

He wasn't so wary a year ago, when he opted not to re-sign Cadillac Williams and then regretted it after Kregg Lumpkin turned out to be Kregg Lumpkin and Earnest Graham went down with a career-ending Achilles tendon injury.

The idea of trading Blount, then, was never really given much thought, though there was more behind the decision to hold onto him than fear an injury could destroy the team's depth.
This is a valid point. At some time this season Martin is going to hit the old rookie wall and hit it hard. Will he be able to manage that wall? Only time will tell.
Perhaps keeping Blount in the mix on game days will delay Martin from hitting that dreaded wall.