Cody Grimm Starts At Safety; Sabby Sits
September 23rd, 2010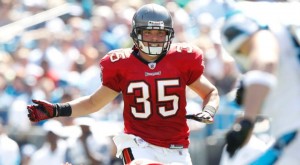 It doesn't get more official than this:
Bucs coach Raheem Morris officially named rookie Cody Grimm as the new Bucs starting safety as reported by the official Twitter account of the Bucs this afternoon.
Coach Morris just said rookie Cody Grimm will step in as the new starter at free safety.
Joe likes this move. Grimm showed in just a handful of preseason games to have more football instincts and savvy than Sabby has in two years.
And let's not forget the dumb penalities Sabby has made not to mention the 19 missed tackles Sabby had last year, which led the NFL by a wide margin.