Sabby Should Stay On The Bench
September 23rd, 2010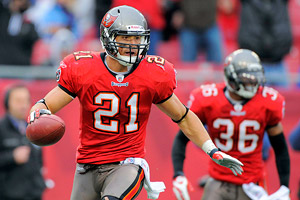 When word began to circulate Wednesday of the news that Tanard Jackson's season was done with a(nother) failed drug test, and speculation began that Sabby would start in his place, Bill Barnwell of FootballOutsiders.com was not overcome with warm and fuzzies.
It was FootballOutsiders.com that declared that Sabby had the most missed tackles (19) of any defensive player in the NFL last year, with a few tied for second with 15.
Twittering last night, Joe read that Barnwell suggested Raheem Morris find some way to keep Sabby off the field if the Bucs are to have success this year.
Sabby Piscitelli was probably one of my five worst regulars in the NFL last year. Bucs need to ensure he stays on the bench.
Barnwell went on to write that Sabby was in his sordid group along with C.C. Brown, Tyler Polumbus, JaMarcus Russell, and Daniel Coats.