"Makes My Job Easier To Play Next To An Ass-kicker Like That"
May 7th, 2022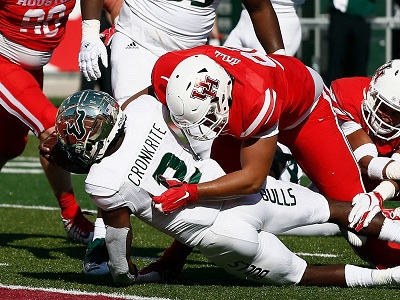 Buccaneers rookie defensive tackle Logan Hall, the No. 33 overall pick last week, is a very chill dude.
He's not going to be a flamboyant media darling and he's about work more than big smiles and fancy quotes. But he did crack a smile recently.
Hall was a guest on the Mr. Bucs Nation show on YouTube and was asked about playing alongside Vita Vea.
That query shook Hall from a bunch of boring quotes and seemed like it brought forth his hunger to eat quarterbacks and wreak havoc in the backfield.
"I'm real fired up about that," Hall said of playing with Vea. "You can double that guy all day. Get me singled up. You know, because he's got all the respect and the hype right now. So playing [with] him, I feel the focus will be on him a little bit and I'll have an opportunity to get in and work. But yeah, really, really happy about that. Makes my job easier to play next to play next to an ass-kicker like that."
Yes, Vea indeed is an "ass-kicker." Wouldn't it be nice if he could play an additional two series per game?
As Joe has written previously, with second-round picks on both sides of the ball in the trenches and jobs on the line, Bucs practices will have a lot more juice this spring and summer.