Fuzzy Math On Vita Vea Playing Time
May 3rd, 2022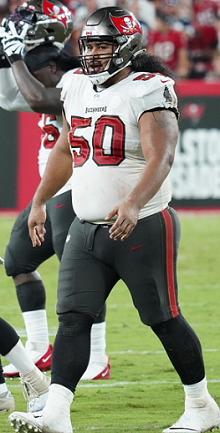 This is an eyebrow-raiser.
Vita Vea's position coach last season doesn't seem to know how much Vea actually played.
Joe has written many times how frustrating it is to see Vea off the field for big snaps in big games.
Take the biggest game of last season against the Rams in the playoffs; Vea played less than half the snaps, 34 plays to be exact. His defensive tackle counterparts on the Rams played the entire game.
Co-defensive coordinator Kacy Rodgers, also the Bucs' defensive line coach, was talking to media at One Buc Palace today and fielded a question about Vea's playing time.
Rodgers response was puzzling — because it was inaccurate.
"Vita, last year, I want to say he was averaging anywhere from 42 to 50 snaps a game and it it's kind of really how it needs to be," Rodgers said. "And we're on him about possibly getting his conditioning a little better so he can play more."
The reality is Vea did not break 40 snaps in any of his final 10 games. So why is Rodgers saying Vita averaged between 42 and 50? Even before Vea banged up his knee in midseason, he had four games in which he played less than 35 defensive snaps.
The Bucs are a better team with Vea on the field. So that's why Joe is bothered by this subject. Rodgers implied today that Vea doesn't have the fitness to play more than he does. That's really hard to believe, especially as the winter weather arrives.