Grading Jason Licht (Round 6 & 7) — A Draft Series
April 29th, 2021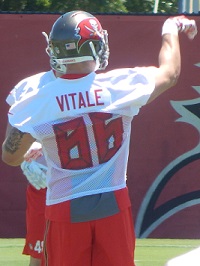 Time to think a little and assess the record of Super Bowl general manager Jason Licht when it comes to the NFL Draft.
Next up are Rounds 6 & 7.
What a diehard fan you are! You love our Bucs enough to read about sixth- and seventh-round draft picks. Joe appreciates your love.
Grading a GM in the NFL Draft requires considering what moves were made — and the ones that weren't and possibly should have been.
It's also a challenge to score a team-building move versus a best-player-available move.
Then there's the massive elephant in the room: a team's record and a player's impact.
Injuries are tricky because while a GM cannot be blamed for injuries, GMs love their medical and training staffs, and those doctors/trainers evaluate prospects' health and performance to project potential injuries – and prevent them. So logic says injuries can't always be called bad luck.
The eighth draft of Licht's Tampa Bay tenure is here – so it's time for fans to man up and grade Licht.
Presenting … Rounds 6 & 7.
2014 – Robert Herron (6th)
2015 – Kaelin Clay (6th), Joey Iosefa (7th)
2016 – Devante Bond (6th), Danny Vitale (6th)
2017 – Stevie Tu'ikolovatu (7th)
2018 – Jack Cichy (6th)
2019 – Scotty Miller (6th), Terry Beckner, Jr. (7th)
2020 – Khalil Davis (6th), Chappelle Russell + Raymond Calais (both 7th)
The Bucs packaged a 2020 7th-rounder and DeSean Jackson to score the pick that landed NFC Championship hero Scotty Miller, who certainly looks like a legit weapon. Defensive tackle Khalil Davis had a few excellent flashes last season, and LB Jack Cichy is still around as a special teams guy/bubble player.
The Bucs did get production from LB Devante Bond before he was popped for performance-enhancing drugs and released, and fullback (alleged "superback") Danny Vitale never made the Bucs roster but is a member of the Belicheats after opting out last year because of The Sickness.
Of course, the grading must factor in the low success rate of late-round picks.
Joe's agonizing a bit here, but will check in with a C+ grade for Licht.
What say you?
DRAFT PARTY!
3,000+ Square Feet Of Covered Outdoor Seating!
Plus indoors!
TONIGHT, April 29!
Giveaways, special guests, and more. Ira Kaufman and Joe will be in the house starting at 7 p.m.
Two lucky fans attending will each win a $300 American Express gift card thanks to Joe's friends at Florida's Elite Restoration.
(More cool Bucs giveaways, too.) Joe is fired up for a great time with Florida's best craft beer, amazing food and great fans. Joe loves Big Storm Clearwater,