Grading Jason Licht – Round 1 (A Series)
April 24th, 2021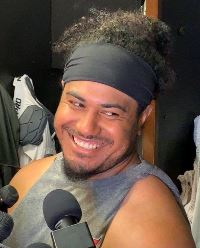 It's time to get out your grading pen and assess the record of Super Bowl general manager Jason Licht when it comes to the NFL Draft.
Grading a GM's draft savvy is a beautiful and difficult thing. It's a challenging puzzle to assess what moves were made versus the ones that weren't made and possibly should have been.
And it also is a challenge to score a team-building move versus a best-player-available move.
Then there's the over-arching elephant of overall team result and impact.
Injuries are thorny because while a GM can't really be blamed for injuries, GMs also laud how they have elite medical and training staffs. And that staff evaluates aspects of a prospect's health and performance to project potential injuries – and prevent them. So logic says injuries – and good health – aren't all luck.
Five days from the 2021 NFL Draft – the eighth draft of Licht's Tampa Bay tenure – it's time for fans to man up and grade Licht's drafts.
Joe's laying out this exercise as a round-by-round affair.
First up is Round 1.
2014 – Mike Evans
2015 – Jameis Winston
2016 – Vernon Hargreaves
2017 – O.J. Howard
2018 – Vita Vea
2019 – Devin White
2020 – Tristan Wirfs
Joe is not one to mince words and won't do it here. Licht has drafted four studs, two busts and a question mark. That's a hell of a strong record, especially considering that each of those four studs has Hall of Fame potential.
Evans has had a historic seven seasons and is the best receiver in Bucs history. White is a monster, and Wirfs should have been All-Pro as a rookie. All three were vital cogs of a Super Bowl champion. Joe can't go there with Vea because he missed too much time, but Vea may become the best nose tackle in the NFL over the next few seasons; he already likely is the most talented at his position.
Yes, Jameis and Hargreaves were busts. Disappointing on the field and off. Case closed.
Howard is a wild card. He's missed a whopping 22 games because of injury, plus the playoffs, and he's never played a full season. That's ugly, but he has proven to be dangerous and Bucs officials seem convinced that Howard was on his way to greatness last season before blowing out his Achilles.
Considering Marcus Mariota sucked and the 2016 selections after Hargreaves weren't exactly a legendary crop, and what a collective role Licht's picks played on a Super Bowl champion, Joe is giving Licht an A- grade for his first-round picks.
What say you?