Grading Jason Licht (Round 5) — A Draft Series
April 28th, 2021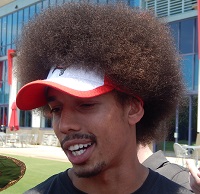 Time to put your grading hat on and assess the record of Super Bowl general manager Jason Licht when it comes to the NFL Draft.
Next up is Round 5.
(Round 1 grading is here.) (Round 2 is here.) (Round 3 is here.) (Round 4 is here.)
Congratulations! You love the Bucs enough to read about fifth-round draft picks. Joe thanks you for your patronage.
Grading a general managers NFL Draft record requires deep thinking, including studying what moves were made — and the ones that weren't and possibly should have been.
It's also a challenge to score a team-building move versus a best-player-available move.
Then there's the massive elephant in the room: a team's record and a player's impact.
Injuries are thorny because while a GM cannot be blamed for injuries, GMs do laud their elite medical and training staffs. And that staff evaluates prospects' health and performance to project potential injuries – and prevent them. So logic says injuries are not always bad luck.
ONE day from the 2021 NFL Draft – the eighth draft of Licht's Tampa Bay tenure – it's time for fans to man up and grade Licht.
Presenting … Round 5.
2014 – Kadeem Edwards, Kevin Pamphile
2015 – Kenny Bell
2016 – Caleb Benenoch
2017 – Jeremy McNichols (aka Snoop Dogg McPlaybook)
2018 – Justin Watson
2019 – Matt Gay
2020 – Tyler Johnson
Ugly bunch on the surface, for sure. But a deeper look isn't as bad.
Pamphile was a starter at left guard on a top-10 Bucs offense in 2017, and had a six-year career. McNichols has been a survivor and was Derek Henry's backup for Tennessee last season. Joe remembers the classic Bucs on Hard Knocks scene, when Licht seem pissed that McNichols wouldn't sign to be on the Bucs' practice squad; he quickly landed with the 49ers.
Watson disappeared from the Bucs offense last season and has continued to be regular on special teams, but he was inactive for three of four playoff games and for a handful during the regular season.
Gay was a bad read by the organization, and Johnson looks promising after proving to be a big-game, big-play contributor.
Remember, Little is expected of fifth-rounders. The bust rate is high.
All factors considered, Joe is giving Licht a B- for his Round 5 picks. Joe might have gone lower without Johnson's playoff showing or if Scotty Miller (2019, sixth round) wasn't such a great pick, since Raiders receiver Hunter Renfrow was selected just a few slots after Gay. What say you?
---
DRAFT PARTY!
3,000+ Square Feet Of Covered Outdoor Seating!
Plus indoors!
Thursday night, April 29!
Giveaways, special guests, and more. Ira Kaufman and Joe will be in the house starting at 7 p.m.
Two lucky fans attending will each win a $300 American Express gift card thanks to Joe's friends at Florida's Elite Restoration.
(More cool Bucs giveaways, too.) Joe is fired up for a great time with Florida's best craft beer, amazing food and great fans. Joe loves Big Storm Clearwater,