Grading Jason Licht (Round 4) — A Draft Series
April 27th, 2021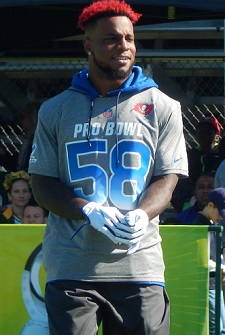 Time to put your grading hat on and assess the record of Super Bowl general manager Jason Licht when it comes to the NFL Draft.
Next up is Round 4.
(Round 1 grading is here.) (Round 2 is here.) (Round 3 is here.)
Grading a GM's drafting requires deep thinking, including evaluating what moves were made versus the ones that weren't and possibly should have been.
It's also a challenge to score a team-building move versus a best-player-available move.
Then there's the over-arching elephant in the room: a team's performance and a player's impact.
Injuries are thorny because while a GM can't really be blamed for injuries, GMs also laud how they have elite medical and training staffs. And that staff evaluates prospects' health and performance to project potential injuries – and prevent them. So logic says injuries aren't always bad luck.
TWO days from the 2021 NFL Draft – the eighth draft of Licht's Tampa Bay tenure – it's time for fans to man up and grade Licht.
Presenting … Round 4.
2014 – None (Traded by prior regime)
2015 – Kwon Alexander
2016 – Ryan Smith
2017 – None (traded to move up for the final pick of Round 3, Kendall Beckwith)
2018 – Jordan Whitehead
2019 – Anthony Nelson
2020 – None (traded for Rob Gronkowski)
Our beloved Super Bowl GM has fared well in Round 4. This is not where you're supposed to find a Pro Bowler (Alexander) and instant starters, but Licht did.
Say what you want about cornerback/safety/returner/special teamer Ryan Smith, but looking at him through the lens of a fourth-round pick, he was ok. But the next cornerback/safety type off the board after Smith was a better player, Juston Burris (who went to Todd Bowles' Jets).  Jordan Whitehead was a steal for his round, and Nelson looks like just a guy.
Joe can't quibble with Licht's two trades of his Round 4 picks.
Joe's giving Licht a strong "B+" for his fourth-round work.
---
DRAFT PARTY!
3,000+ Square Feet Of Covered Outdoor Seating!
Plus indoors!
Thursday night, April 29!
Giveaways, special guests, and more. Ira Kaufman and Joe will be in the house starting at 7 p.m.
Two lucky fans attending will each win a $300 American Express gift card thanks to Joe's friends at Florida's Elite Restoration.
(More cool Bucs giveaways, too.) Joe is fired up for a great time with Florida's best craft beer, amazing food and great fans. Joe loves Big Storm Clearwater,