X-Factors At One Buc Palace
April 29th, 2021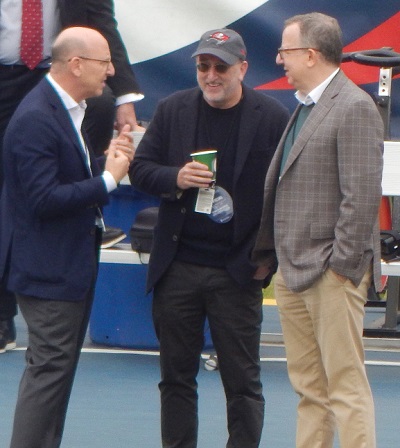 Joe is quite confident that a confidential survey of NFL general managers would reveal that a majority of team owners are involved in the first round of the NFL Draft to some degree.
That's just reality.
It doesn't mean owners make the pick, but their influence is felt and considered, especially when it comes to early, big-money draft picks.
Anyone think Arthur Blank isn't wielding a heavy hand with the Falcons decision at No. 4 overall tonight?
Joe hears all the buzz about the Bucs working overtime on evaluating quarterbacks, and Joe immediately thinks of Team Glazer. As Joe suggested on The Ira Kaufman Podcast, perhaps Team Glazer happily agreed to a whatever-it-takes plan to re-sign a mountain of Bucs free agents as long as the front office and Arians agreed to draft a quarterback to groom in what might be the best QB incubator in NFL history.
Is that really so far-fetched?
Team Glazer is on record saying they have never told a general manager who to draft, but Team Glazer is not on record saying they don't express their draft desires to a GM or head coach.
Will there be an ownership influence to the 2021 Bucs draft? There's no way to know. But if a QB indeed goes with the Bucs' first pick of the draft, even if that's in Round 2, then Joe would be willing to put a few bucks on Team Glazer smiling from ear to ear.
Bucs fans overwhelmingly do not want the Bucs to draft a QB tonight, so that would make a QB selection even more intriguing.
---
DRAFT PARTY!
3,000+ Square Feet Of Covered Outdoor Seating!
Plus indoors!
Tonight!
Giveaways, special guests, and more. Ira Kaufman and Joe will be in the house starting at 7 p.m.
Two lucky fans attending will each win a $300 American Express gift card thanks to Joe's friends at Florida's Elite Restoration.
(Cool Bucs giveaways, too.) Joe is fired up for a great time with Florida's best craft beer, amazing food and great fans. Joe loves Big Storm Clearwater.