Will The Tom Brady Effect Secure Shaq?
March 12th, 2021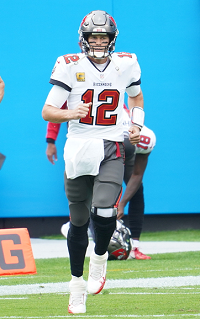 When Tom Brady was signed in Tampa, Bucs officials told fans their new quarterback would transform every aspect of the Buccaneers organization.
The talk was so over-the-top, Joe started to believe Brady would save sea turtles on Clearwater Beach, eliminate traffic and get the Rays a new stadium.
It turned out, the Bucs honchos were correct. Brady recruited players and changed the culture, even busting out handwritten notes to employees and teaching superstars how to live better.
So now Joe thinks it's fair to wonder aloud whether the famed Brady Effect will work its magic on pending free agent sacks king Shaq Barrett.
Does Brady have enough pull, enough juice, to secure Shaq's return — something Bucs officials want desperately to lock down before free agency opens next week?
It's not fair to ask Brady, but Joe suspects Brady is treating Shaq recruitment as a challenge because he's smart enough to know you don't let a stud pass rusher in his prime walk away. However, it was Bill Belicheat himself who traded ferocious Patriots edge rusher Chandler Jones to Bucco Bruce Arians in Arizona after the 2015 season.
Belicheat didn't want to pay Jones. Instead, he paid linebacker Donta Hightower and cornerback Stephon Gilmore in free agency, and went on to win two more Super Bowls to close the 2016 and 2018 seasons.
The pick the Patriots got for Jones eventually turned into stud guard Joe Thuney. So perhaps Brady isn't sweating losing Shaq at all, after first-hand that losing an expensive name isn't a death sentence.
Still, Joe has visions of Brady secretly promising to fundraise for Shaq's foundation, letting him borrow the Brady boat and giving him a lifetime supply of TB12 training and supplements.
Make it happen, Tommy!