Mike Evans: Tom Brady Made Me Better
March 9th, 2021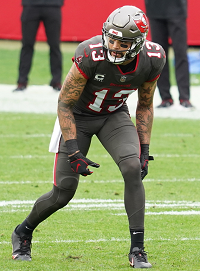 Remember late last season when it appeared that stud Bucs Mike Evans blew his knee out on crappy end zone turf at The Licht House?
What a horror it was, but there an interesting story that came out of it.
Evans said days later that, at the time, Tom Brady immediately came up to him and suggested that he hyperextended the knee and would be just fine. And it turned out Dr. Brady was absolutely right.
Joe didn't write about it then, but it was a striking call by the legend during a competitive game. Man, is there anything Brady isn't good at?
Following the Super Bowl win, Evans made a visit to NFL Network and was asked how Brady made him and the team better. Interestingly, Evans didn't talk about the team improvement; he went directly to how Brady jacked up his game — and life.
"I learned how to take care of my body better, learned how to study film better. So many other things," Evans said of the Brady Effect on him.  "Learned how to become a better man. He's an unbelievable teammate. He's a great role model, a great guy to look up to. And he's the greatest of all-time."
It's all very striking. Consider that Evans was the Bucs' nominee for the NFL's annual Walter Payton Man of the Year Award, which is a humanitarian honor. Evans was not a guy lacking in good-man deeds.
Reflecting on Brady is always good for Joe's psyche during these tense days leading up to free agency. Hell, Brady even fixed furniture-tossing, bicycle-hurling Antonio Brown and the entire sports town became legendary upon his arrival.