"They Kind Of Found This New Way Of Playing Offensive Football"
March 12th, 2021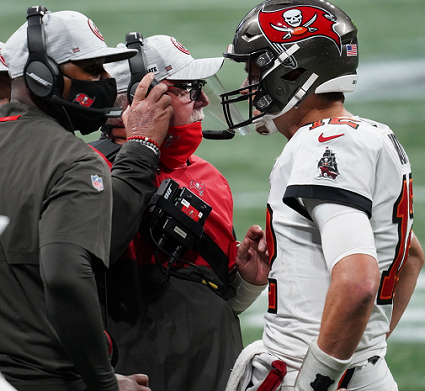 Did the Bucs offense break new NFL ground?
Former ESPN QB guru and Super Bowl-winning quarterback Trent Dilfer thinks so.
Man, Dilfer had a ton of appreciation for the Bucs in his voice during a recent chat with The Rich Eisen Show on Peacock.
Asked for his feeling on his former Bucs team winning the Super Bowl, Dilfer was all about gushing over how the Bucs handled the 2020 season with intelligence, discipline and perseverance.
Dilfer said he saw a team that got too tempted by all its weapons early in the season before making the move after the bye week to be more balanced while still focused on elevating their passing game — all while the team jelled after a wacky offseason.
Tom Brady "calmness returned," Dilfer said, and some of that was about bringing in a tight end to pass block more often.
The result was the Bucs' winning blend of old school and innovation.
"They kind of found this new way of playing offensive football — having really cool sizzly plays off really boring stuff," Dilfer said. "So they sucker you in with the boring stuff and then they flash and sizzle you with the explosive stuff. And while all this is going on, they are growing as a defense and they're becoming nastier and nastier."
Dilfer had plenty of love for the defense and its coaching, too. "What they did to Green Bay is one of the great secondary game plans I've seen in a long time," he said.
Overall, Dilfer said he was just so proud as a football lover to see a team take "the long-tail approach" and see it through without panicking.