Put Bruce Arians In The Ring Of Honor Next Season
January 24th, 2021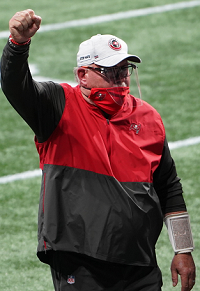 Joe's putting a foot down right now and calling on Team Glazer to think out of the box and step to the plate during next season's home opener.
Bucco Bruce Arians has gotten the job done, taking a miserable franchise by the balls and marching it to the Super Bowl in just two seasons.
The stink and the stench of losing came with the Bucs job, and Arians couldn't rid himself of that last year. But he did have the good sense and the smarts to fire his quarterback and his kicker and demand a win-immediately and win-at-all-costs approach from ownership.
And it worked.
The penalty-riddled Bucs early this season cleaned up their act under his leadership, and now the Bucs sit in the Super Bowl enjoying the franchise's first seven-game winning streak in history. Yes, you read that correctly.
At 68 years old, Joe would like to see Team Glazer honor Arians in the Ring of Honor to start next season.
Why not reward excellence immediately? And we all know they're going to induct Arians one day anyway.
Give Arians opening day, a nice pregame ceremony, and let Monte Kiffin's makeup day come during a halftime later in the season.
So much of what Bucs fans have witnessed this season is on Arians. He had the foresight to move Chris Godwin into a slot receiver role, and he and Jason Licht were willing to put complete trust in a young secondary this season.
As Joe wrote earlier, Arians made all the right decisions on the offensive line, and he never gave up on Ronald Jones. There are so many other examples, including Arians obviously belting a home run in cobbling together a dynamite and historically huge coaching staff.
For Joe's money, Arians is now the second best head coach in Buccaneers history.
Honor the man forever in the stadium.