Air Brady
January 22nd, 2021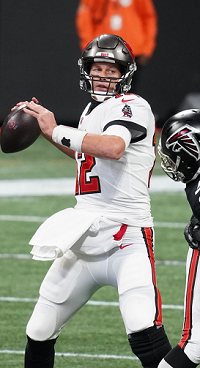 Here's a legitimate stat that many people would have found unthinkable in August.
The numbers have been spit out by the official NFL NextGen Stats, the fancy numbers that come from sensors in players equipment rather than dudes with calculators and remote controls.
Per NextGen (see the Tweet below) Tom Brady throws deep more than any QB in the game — at 43 years old. The qualifier is a throw that travels 20 yards past the line of scrimmage.
No. 2 on that list is Sunday's opponent in the NFC title game, Aaron Rodgers.
Joe finds this funny in some ways. The screamers and freaker-outers, who after Brady was in an early-season slump on deep balls, got it wrong when they called for Brady and the Bucs to change their approach. Brady ended up leading the NFL in deep throws and is sitting in the NFC title game with a hot offense.
Sunday's NFC Championship matchup features two veteran quarterbacks who rely heavily on the vertical passing game.

Tom Brady (14.9%) & Aaron Rodgers (14.6%) throw deep at the highest rate among qualified QB this season.#TBvsGB | #GoBucs | #GoPackGo pic.twitter.com/P2xjMTCZyB

— Next Gen Stats (@NextGenStats) January 21, 2021