Bucs Better Become Hermits Until 2021
July 26th, 2020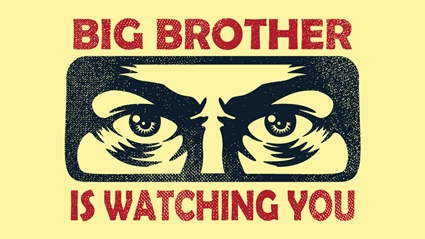 The NFL really is Big Brother now, at least for this season.
Leave it to a former successful labor lawyer to flush out the buried details in a labor contract. But Joe would expect nothing less from the astute eye and sharp mind of the creator, curator and overall guru of Pro Football Talk, the great Mike Florio.
As part of the deal to rework the CBA and get the NFL to agree not to slash the salary cap this year, players are now subjected to unprecedented Big Brother surveillance from NFL strongman Roger Goodell and his henchmen in the free agency era of the NFL.
Basically, the NFL has really become the No Fun League as its detractors have mocked it for decades.
In short, if a player is having any fun whatsoever and comes down with "The Sickness," they can be penalized. Big time.
Per Florio, if a player is caught inside a bar or a club, unless they are picking up a to-go order, seen or reported to be among a crowd in their home or in anyone's home, or just going to Mass, a synagogue or any place of worship, and later tests positive for "The Sickness," their team could immediately fine or dock the player potentially millions of dollars, depending on how much they make.
Per multiple sources, the deal specifically prohibits players from engaging in certain behaviors this season. Players cannot attend indoor night clubs, indoor bars (except to pickup food), indoor house parties (with 15 or more people), indoor concerts, professional sporting events, or indoor church services that allow attendance above 25 percent of capacity.

Players can be fined for violating these rules. Moreover, if they test positive after engaging in prohibited activities, they will not be paid for the games they miss. Also, future guarantees in their contracts would be voided.
Wow! Joe isn't even sure Govs. Gavin Newsome, Gretchen Whitmer, J.B. Pritzker or Andrew Cuomo forced their citizens to endure such draconian measures during state lockdowns for "The Sickness."
And no "professional sporting events," how ironic is that?
Imagine offsides-jumping, Lightning-trolling, belly-shirt-wearing, practice-hating, kicker-heckling, tree-grinding , non-contact-football-loving, chicken-wings-grilling, playing-time-squawking, TV-cooking-star, half-sack Swaggy Baker trying to live under these conditions.
You can't even have a small bunch of people over to your house or go to someone else's house, or fulfill your faith's teachings without getting docked and maybe cut (in the offseason)? And if you get sick you could lose a million dollars or maybe your job?
Holy flurkingschmidt!
Not only is Joe unsure these rules can be enforced (who takes pictures of dudes in church?), but damn, don't you know politicians somehow will use these restrictions as rallying cries to get votes.
The ban on guys attending any church service they desire won't go over well in some circles.
Joe is almost eager to find out how many of these cats in the NFL get busted for breaking these rules. It's going to happen. You just know it.