"I Finally Feel Like I Got My Legs Up Under Me"
July 26th, 2020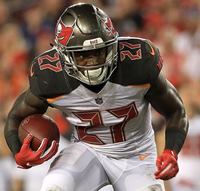 While rookie Tampa Bay running back Ke'Shawn Vaughn can't wait to silence the doubters, Ronald Jones is talking a big game, too.
During his recent visit to the The Fantasy Typhoon Studios, RoJo said he's pleased with how his evolution has met opportunity.
"Better than ever," RoJo said about how he feels. "Another year of, you know, maturing in the league. I finally feel like I got my legs up under me. I feel a lot better going into Year 3."
Rojo added that he's been waiting for the chance to the No. 1 back and now he's the guy.
Joe would argue that RoJo had every chance to be the No. 1 back last season, but Bucco Bruce Arians granted RoJo only 80 carries in the final eight games of a lost season.
Regardless, that's old news and now RoJo is the veteran presence in the Bucs' running backs room. "Weird to think about," is how RoJo described that fact.
It's been a busy offseason for the Bucs' third-year back, who said he had been up early training and running lots of hills in Arizona, followed by breakfast and racking up five hours of training by the end of each day. RoJo said he has sent Tom Brady his training videos from Arizona and Brady would respond with feedback on route running, etc.
All the work has left RoJo with a 225-pound body he loves. "I like that number. It's right there, perfect for me right now. I got more explosive, so definitely more power and a lot more strength," he said.
On adding Brady and Rob Gronkowski, RoJo said, "this season is destined for something special."
If you missed it, RoJo also talked about how Tom Brady has stuff "up his sleeve."