"We Have A Lot Of Faith In Ronald"
April 9th, 2020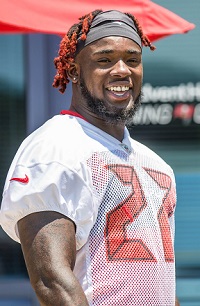 General manager Jason Licht was talking running backs today during his online video chat with Joe and other local media types.
Third-year running back Ronald Jones came up in the conversation, and we know how happy RoJo is.
Licht is happy, too, very happy, with the No. 38 overall pick in the 2018 NFL Draft.
"We do think Ronald hasn't even scratched the surface of what he can be," Licht said. "He made a huge jump from Year 1 to Year 2. He didn't have to do much to do that because Year 1 wasn't very good for him. But Year 2, we felt very good about where he came and we think he still has a tremendous amount of upside.

"It doesn't stop us from wanting to add to that [running backs] group … but we have a lot of faith in Ronald, and in fact, we have more faith in him now that we ever have. But that's another position, as you can tell [when] you look across the league, some of the better teams they have one, two or three guys that they can rely on in different roles in their offense."
Last offseason seemed like Operation Build RoJo's Confidence. Everyone at One Buc Palace was pumping the guy up publicly. And then the season came and RoJo couldn't win the bellcow job or the third-down back gig, and he had just 80 carries in the final 8 games.
(Joe's still pissed RoJoe didn't get the rock more when the season was out of reach. Valuable reps were lost!)
Regardless, the Bucs like what they have in RoJo, who ended the season on a high and is still just 22 years old.
It'll be interesting to see how RoJo rises to the challenge (or doesn't) if the Bucs draft a running back in the first two days of the draft this month. Especially considering RoJo was vocal about wanting more work.