Brady Over Jameis = "2 To 3 Wins"
April 9th, 2020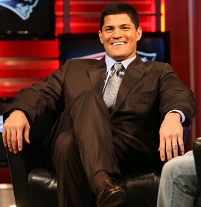 A big Tom Brady supporter, former teammate and current BSPN analyst Tedy Bruschi jumped into a popular quarterback debate heard from Lakeland to Clearwater Beach and beyond.
What exactly will the Tom Brady addition translate to on the field for the Bucs, with Brady replacing unemployed America's Quarterback, Jameis Winston?
Bruschi joined WEEI radio in Boston recently and twice pegged Brady's addition meaning 2 to 3 wins to the Bucs' 7-9 record. Hosts on the show thought Brady was/is worth a lot more, but Bruschi was very clear. The Bucs are now a 9-to-10 win team.
He talked about how he believes the Bucs will be relevant and competitive in December, and the biggest improvement might be Brady's effect on the Tampa Bay defense.
"The uplifting [as a defensive player], you're just refreshed that you know the ball's going to be taken care of," Bruschi said.
Bruschi added that he's a little concerned that the Bucs might have trouble building chemistry on offense because of lost time together due to the plague ravaging the nation. He believes Brady will be ready with verbiage and playbook, Bruschi said, but on-field chemistry is a very different animal.