Five Things
October 14th, 2019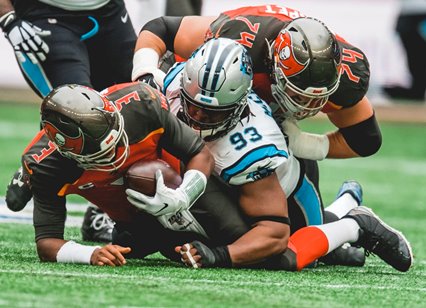 Joe's weekly in-season observations of the previous day's game and what is going on in Bucland.
What to do with Jameis?
The flag at the entrance to the home of America's Quarterback, Pro Bowler Jameis Winston, is flying at half-mast today.
Yesterday, Jameis had arguably his worst day as a pro with six turnovers — five picks and a fumble lost. It was downright brutal and just about wipes out all the good he had done since the San Francisco loss to open the season.
In two of four Bucs losses this season, Jameis had nine turnovers combined. Good grief!
And while Bucs fans were throwing beer bottles at TVs yesterday morning in blind rage at Jameis, a little nugget came in Joe's e-mail inbox that demonstrates why the Bucs have yet to give up on Jameis.
Yesterday, Jameis threw for his 100th touchdown and he still has 10 games to go to end his fifth season. No other Bucs quarterback has done that.
Additionally, for quarterbacks 25-and-younger, only five quarterbacks have accomplished this. And all four were damn good quarterbacks: Drew Bledsoe, Peyton Manning, Dan Marino and Matthew Stafford.
Now Joe has no idea what Team Glazer, Bucs AC/DC-loving general manager Jason Licht or Bucco Bruce Arians will do with Jameis after this year. Joe has a hunch he will be return next season but two more games like he had yesterday and Joe could easily see the Bucs waving goodbye to him.
That would be a shame.
Over the weekend, Joe read a story typed by Albert Breer of SI.com. There, Breer interviewed Brady Quinn, Joey Harrington and Tim Couch (who was coached in Cleveland by Arians). All three were supposed to be can't-miss quarterbacks. Yet they missed.
Three common denominators led to their demise. First, they were drafted by lousy organizations (Browns and Lions). And of course, there was scant talent to make for a good team.
And yes, Jameis was also drafted by a rotten organization. The Bucs, since 2009, have been one of the worst organizations in the NFL if not sports, if you just got by wins and losses.
Another common denominator was they got their arses beat to hell. Both Couch and Quinn had their careers ended early because their bodies were beat up. Harrington got hammered so much he admitted in the story he lost any passion he had for football and reached the point he was just there for a paycheck.
What has happened to Jameis since he entered the NFL? He's gotten pounded. It started with absorbing the most QB hits in the league during his rookie season. Fortunately for him, the injuries haven't been too severe.
The third common denominator between the three former quarterbacks is admitted to losing confidence. Remember what Bucco Bruce Arians said he had to work on and rebuild with Jameis? Confidence.
Jameis is a changed quarterback. Yesterday, he sure looked like he was hearing imaginary footsteps. Easy to do when you expect to get drilled on every dropback. Maybe he has a form of PTSD?
Jameis also is a changed quarterback from when he was a rookie, where he displayed so much hope and ability. Remember when Jameis, to finish his rookie season, pounded on the podium with his fist in anger over yet another loss and said when the Bucs have enough players in the locker room who care about winning as much as the coaches, then the team would win?
Where is that same quarterback now? When have you last seen Jameis make an impassioned speech in anger over teammates not holding up their ends of the bargain? Those days seem long gone. You see little of that fire from Jameis any longer. Is this what Harrington experienced?
If Jameis moves on after this season, he will become yet another good college quarterback who is drafted by a sad organization whose losing and dysfunction eventually swallows him up and spits him out.
Leftwich Underwhelming
Joe remembers this summer suggesting that perhaps current Bucs offensive coordinator Byron Leftwich was part of the reason why quarterback Josh Rosen failed in Arizona. After all, Leftwich was both Rosen's quarterback coach and later, his offensive coordinator.
Bucs fans freaked out on Joe for daring to suggest that. Well, after six games, does it appear that Leftwich is the next Sean McVay or Kyle Shanahan?
Remember when fans used to complain about how Chucky couldn't figure out a way to get both Joey Galloway and Antonio Bryant on the field at the same time? Joe has similar questions about Leftwich, and Leftwich does not have the resumé Chucky had.
Why is it the Bucs cannot find a way to get O.J. Howard more involved in the passing game? Or even Cam Brate? Why can't Leftwich scheme a way, for example, to have Chris Godwin lineup wide along with Mike Evans, and have Brate or Howard line up in the slot in place of Godwin?
Instead, Leftwich seems bound and determined to force passes to Scotty Miller, who Joe has yet to see get any separation. At times, Bobo Wilson is on the field trying to pretend to be an NFL wide receiver.
Miller and Wilson are no mismatches for any defender in the league. Howard and Brate are. Yet the Bucs, struggle to get tight ends involved in the passing game.
Hell, Joe could find a dozen two-bit high school coaches who could figure out a way to get the tight ends more involved.
Through six games, Joe is not overly impressed with Leftwich. Some of his playcalls are headscratchers. And why he can't find a way to get his best pass catchers on the field at the same time running pass routes is frustrating as hell.
So what will Jason Licht do?
Quick research on the interwebs reveals it takes some nine hours to fly from London to Tampa. So Joe is guessing Bucs AC/DC-loving general manager Jason Licht had plenty of time to map out and research his next plan to somehow get the Bucs on the right path.
Joe is of the mind the Bucs must find a cornerback if they have a serious desire to make a run at a wild card. The secondary is a bloody mess. And doing nothing isn't going to make things better. Players are not going to magically improve enough to become competent in the next 10 weeks.
The Bucs only need a decent corner. You know, a starter who doesn't go out and embarrass himself on gamedays. Doesn't have to be a Pro Bowler. Just someone competent.
If Licht doesn't believe the secondary needs an immediate upgrade, if he is fine with rolling the dice with the guys currently on the roster, then that tells Joe that Licht is playing for the draft. Joe is a big believer in you either play for a playoff berth or you play for a draft pick. Anything else is basically just p!ssing on your shoes.
And Joe is OK if the Bucs are playing for the draft. If that is the case, then the Bucs ought to be shipping out players.
Joe just knows Licht doing nothing may be the worst decision of them all. Joe swears the next time someone tries to tell him the Bucs have talent enough to win and get to the playoffs, Joe will scream!
Doubtful Offensive Line Cavalry
The right side of the offensive line yesterday was a trainwreck. It was expected as injured Alex Cappa and Demar Dotson, the Bucs right guard and right tackle, respectively, were out.
Joe wanted the Bucs to go out and get help for the right side. Hearing Bucco Bruce Arians speak after yesterday's game, that doesn't sound like it will happen.
Why? Because there is a shot Dotson returns in two weeks for the Tennessee-Ready Game II, the Sunday after next weekend's bye. And both Cappa and Dotson could both be back in the lineup in three weeks when the Bucs travel to Seattle, as Arians explained Wednesday.
So if the Bucs only need to suck it up one more week with a sieve on the right side of their line, that tells Joe the Bucs aren't going to burn the midnight oil looking for another right guard or tackle.
Triggered By Vernon Hargreaves
Man, Joe posted a thoughtful, reasoned suggestion yesterday that the Bucs ought to shop cornerback Vernon Hargreaves. It seems, at this point in the season, the Bucs will not bring Hargreaves back for his fifth year unless Hargreaves decides to take a significant cut in pay.
So Joe thinks it would be smart to test the trade waters with Hargreaves to see what might be snagged. You would have thought the way Bucs fans reacted on Twitter that Joe offered for the Bucs to trade Mike Evans.
The top complaint Joe got sort of went along these lines, "You dumbarse, you won't get anything for him."
First off, no one knows this. Second, if you get any kind of a draft pick, it's better than just tossing the guy in the gutter and getting nothing in return. But, it seems, some people want to prove some odd point by doing just that, cutting him because they are so angry at Hargreaves and his less than stellar play.
"Who would be the moron who would trade for Hargreaves?" Well, you don't know if you don't ask. There are all kinds of examples of teams trading draft picks for players who are all pointing down in their careers.
Joe remembers Indianapolis trading a first-round pick for Trent Richardson, last seen slumming it in the AAF. Joe also remembers the Bears trading the 11th overall pick in the draft for a piece of garbage like Rick Mirer.
And, lest Bucs fans forget, an idiot traded a second-round pick to the Bucs for that stiff of a player Gaines Adams. And to think the Bucs later hired that same idiot to run the entire football operations. And people wonder why the Bucs still stink out loud! (Which is worse, trading a second-round pick for Adams or cutting Darrelle Revis?) This little nugget lit the light bulb in Joe's head. So this is why Lovie ran off former Bucs rock star general manager Mark Dominik. It is because Dominik got over on Lovie big time. Lovie couldn't have a guy work for him who shamed  across the league.
Bad/failed players get traded all the time. Just because someone may hate Hargreaves doesn't mean the Bucs should be irresponsible and skip trying searching for a sap out there who would take him off their hands for a draft pick.
If Hargreaves isn't going to be back, and if you can find a team to cough up a draft pick, that would be a smart move in Joe's eyes.