"That's Old School Toughness Right There"
October 10th, 2019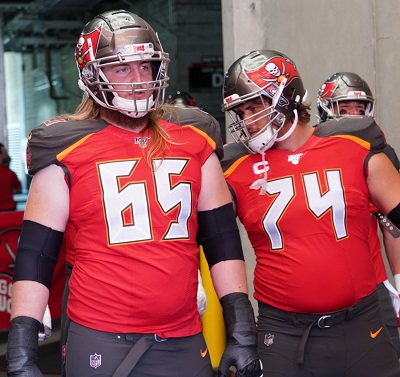 The first thing you can do if want to impress Bruce Arians and win his football love is to block like an animal.
The second is a little more painful.
Arians was talking to America yesterday on SiriusXM NFL Radio and was asked about the new starters coming to his offensive line Sunday against the Panthers in England.
Nah, Arians didn't want to talk about those guys on the right side of his O-line; he went right to the injured warrior.
"I gotta give Alex Cappa all the credit in the world. He broke his arm on a screen pass in the second quarter and didn't tell anybody and played the whole game," Arians said. "That's old school toughness right there. You love that. Hopefully we'll get both those guys [Cappa and Dotson] back by Seattle."
Arians was talking to co-host Bill Polian, the Hall of Fame general manager and former boss of Arians. Man, Joe could hear the love in Arians' voice for Cappa.
Joe went to the All-22 film and looked for Cappa breaking his arm on that screen pass. The screen shot below is of him on one knee holding his left arm on that play late in the second quarter. The crazy thing is, the Bucs ran over right guard, aka Cappa, on the first two snaps of the second half.
If you watch the film, you can see Cappa getting off the ground multiple times without using that arm.
What a warrior!