Team Glazer Talks Offense, Balance And "What Gives Us Hope Going Forward"
April 8th, 2019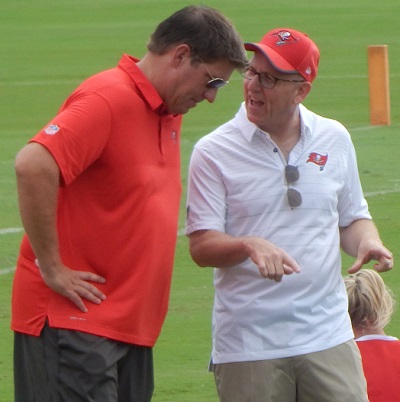 Remember when Joe explained the simple Rule of 27 swirling through the brain of Bucco Bruce Arians?
Re-read it if it escaped your mind. Three weeks ago, Joe explained that inside the hallowed halls of One Buc Palace it's all about how just a marginal offensive improvement can take the Bucs to the playoffs in a hurry, and history backs that up.
Enter Team Glazer, sitting with Joe about two weeks ago at the annual bloated-blogger-to-billionaire-business-owner chat in Phoenix at the NFL Owners Meetings.
Joe asked Team Glazer about the Buccaneer's 2018 identity as a feared offense.
JoeBucsFan.com: As far as the identity of the team, last year the offense was humming, fans latched on very early to this high-powered offense. How did you feel about the identity of the team being an offensive team and that sort of carrying forward? Do you like that? In past years it was defense.

Buccaneers co-chairman Joel Glazer: Yeah, but that's the way the league has gone. Successful teams these days you're seeing doing it on offense. And that's what gives us hope going forward. Because you saw what our offense was capable of. You know, things may need to be adjusted going forward, maybe a little more balance. But we had the ability to do what we were able to do. And not a lot of teams actually had that ability actually have that ability to move up and down the field like we moved up and down the field. So that's what gives me hope going forward to build off that. And Bruce [Arians] is going to come in; I know he'll bring his offense and his knowledge and his methods. And so you marry the two and we have great confidence going forward.
So there you have it straight from Team Glazer. A next level offense in 2019, building on what general manager Jason Licht said was one of the great offenses in NFL history, is fueling big-time confidence at One Buc Palace.
Bucs fans should be excited. And Joe is not being sarcastic. On paper, if the Bucs quickly can deliver an average running attack with an average kicker, we'll all be choking on Ws by Thanksgiving. The defense can't get worse, so Joe isn't worried about that.