Lavonte David Is On The Clock
April 9th, 2019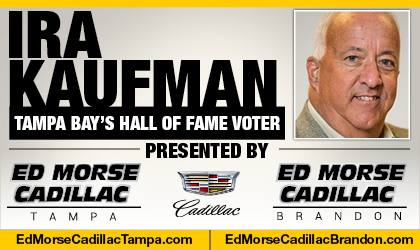 BY IRA KAUFMAN
He's running out of time, and he knows it.
Seven seasons have passed since Lavonte David first burst on the scene, roaming sideline to sideline as a weak-side linebacker for the Buccaneers.
Most of those years ended in frustration, both personally and collectively. With only one Pro Bowl on his resume, David enters the 2019 season seeking league-wide recognition at the age of 29, even as he transitions to a new position.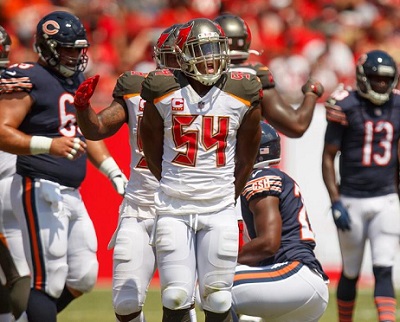 Tampa Bay is expected to shift into a 3-4 base defense under Todd Bowles and David will move inside for the first time, perhaps next to a rookie linebacker like Devin White or Devin Bush.
Buc fans are still waiting for David Unchained, a throwback to the glorious 2013 season when he registered 145 tackles, 21 for loss, 7 sacks, 13 QB hits, 5 interceptions and 2 forced fumbles. He was a one-man wrecking crew, playing with an edge after opening the year with an egregious late hit against the Jets that led to a bitter last-second setback and set the tone for a 4-12 season in Greg Schiano's finale.
David set a very high bar for himself as a second-year player, earning first-team All-Pro honors and evoking memories of Derrick Brooks, a Hall of Famer and one of seven Buc Pro Bowl linebackers in franchise history.
Somehow, David didn't receive enough Pro Bowl support that monster season. A last-place finish didn't help his cause.
"He's going to be remembered in this league," says Gerald McCoy. "It's sad he doesn't get the actual recognition, but people know."
Turning Back The Clock
The rest of the NFC South is usually lauded for quarterbacks Drew Brees, Matt Ryan and Cam Newton, but the linebackers in this division aren't too shabby, either. Luke Kuechly, Deion Jones and Demario Davis are studs and Bruce Arians plans to turn David loose this fall.
"Let's see what he can do in a situation where we're rushing him more, with his speed," Arians says.
Slated to be an unrestricted free agent in 2021, David posted nine interceptions in his first four seasons but has added only one pick in the past three. He's annually selected as a defensive captain, but David leads primarily by example. He lets his play do the talking and he showed up rather loudly in the biggest moment of his career– when the 8-5 Bucs traveled to Dallas in 2016 with a 5-game winning streak and their playoff destiny in their own hands.
The Cowboys won 26-20, despite 9 tackles, a sack and a fumble recovery by David.
That season marks the only winning slate for No. 54 and he realizes time is growing short.
"You only get a little bit of time to play in the NFL and it's been heartbreaking," he said after another 5-11 finish. "Guys like Gerald and Demar, I see the way these guys work. One day, it's going to happen … and it's going to be a big one for us."
Although David's only Pro Bowl berth came in 2015, he has led the Bucs in tackles in six of his seven pro seasons. Last year, he ranked fifth in the NFL with 94 solo stops.
That number figures to rise if he is assigned to patrol the middle of the field. Tampa Bay's collapse after a 2-0 start still haunts David. A brutal defense improved slightly after the dismissal of Mike Smith, but Bowles has a big job ahead of him.
"What I remember most about this year was how many games we let get away from us," he says. "We were excited by our good start, but we didn't finish. That's the story."
Time for a new chapter. Time for a fresh start.
Time for the old Lavonte David.
Ira Kaufman began covering the NFL as a New York Giants beat writer in 1979. He arrived on the Buccaneers beat in 1985, Finally, the corporate leash was removed from his neck when he joined JoeBucsFan.com in July 2016. The award-winning Ira Kaufman Podcast fires twice per week, and Ira's columns appear thrice weekly, except when Ira is on special assignment. Tampa Bay's only Hall of Fame voter also is a popular guest on various national radio shows and on local TV. He's also co-host of TAMPA TWO at The Identity Tampa Bay, which returned to its regular format last month.
Vinny Lecavalier is talking Lighting playoffs. How fun is that! It's another great production from Joe's friends at The Identity Tampa Bay.