"As In When Football Was Invented"
January 1st, 2019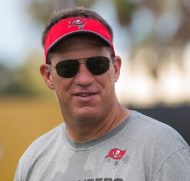 Man, general manager Jason Licht sure has one extraordinary perception of his offense.
Sans a running game and with historic turnover numbers, Licht sees one of the greatest offenses in NFL history.
He was gushing about it yesterday to Buccaneers.com team reporter Casey Phillips.
"I think you have to start with, you know, we had a historically good offense. Not just the best offense in franchise history but it ranks up there with some of the best offenses in NFL history, as in when football was invented," Licht said. "So we have a lot of those pieces, all those pieces, hopefully all those pieces coming back."
Joe understands Licht's optimism for his talent, but it sure feels like an unproductive and almost silly mindset about an offense that averaged just 20.8 points a game in the second half of the season. Repeat – 20.8 points per game.
Also, this heralded offense Licht speaks of just lost all its coaches and will lose one of its productive elements: DeSean Jackson.
Of course, Joe is glad Jackson will be gone, but if Licht is going to sell this line about the Bucs offense, then Joe has to mention that this legendary offense will be without its architects and a key contributor, and possibly one of its quarterbacks that started half the season.
You can see Licht talk in the Buccaneers.com video below.