Bruce Arians' 27 Plan
March 19th, 2019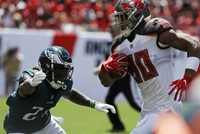 Yes, Bucco Bruce Arians is going to demand Chucky-era accountability from his players without the Greg Schiano stupidity. It will be so refreshing.
But the bigger plan at One Buc Palace is simpler than that.
With all the smoke Arians has blown this offseason, including saying Ryan Fitzpatrick would be an asset, Arians has told some truths. And one is his amazement by the array of weapons available to America's Quarterback, Jameis Winston. Arians drools when he looks at Mike Evans, Chris Godwin, O.J. Howard, Cameron Brate and Peyton Barber. He really does.
Why?
Because Arians sees an offense that should have no trouble scoring 27 points per game after ringing up 24.8 per game last season, despite a mountain of turnovers. The 2018 Bucs led the NFL in passing yards but couldn't finish, couldn't turn those yards into the appropriate number of points.
So why 27 per game?
Well, through the last eight NFL seasons, teams averaged 27 or more points per game 37 times. And only five of those teams missed the playoffs. Of those 5 clubs that missed the playoffs scoring 27 per game or more, only 2 had losing records: the 2016 Saints (7-9) and the 2012 Saints (7-9 while Sean Payton was suspended all season).
So if you score 27 per game, then you are just about guaranteed a solid season, which is exactly what Arians needs in Year 1 of his repair job.
This is the core reason why you see no panic in the Bucs offseason. Arians is sure he can score enough points, and he's sure Todd Bowles is a lot better than the hot mess of defensive leadership that preceded him.
Can these Bucs score 27 per game? Joe's going to have the calculator on high alert.