Jameis Talks Spiritual Growth, Living The Wrong Way, Life Changes & More
April 8th, 2019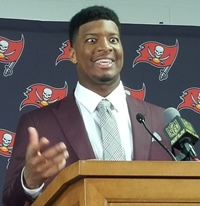 America's Quarterback, Jameis Winston, talking about his spiritual life recently for a religious-based podcast, and it published today.
The Spectrum Sports Podcast (not that Spectrum) is all about talking to athletes about their journey in Christianity.
There were some noteworthy nuggets.
First, Jameis said he draws comfort that his new QB coach, Clyde Christensen, is a man of deep faith and they have talked about their religious journeys together. Also, Jameis explained how he became a Born Again Christian in Nov. 2014, and two years ago he hired a life coach, an old friend, to hold him accountable not in his day-to-day actions but on a broader level with God.
Below, Joe typed up a telling and introspective take my Jameis.
"I've been through ups and downs but one thing about me is that I always knew my identity wasn't in football, that it wasn't in baseball, I knew that my identity always has been in Christ," Jameis said. "Just my upbringing has always led me to have a tremendous faith that God was going to see me through, and that he would not give me too much that I couldn't bear. So I've always had that solid foundation of whose child I really was. No matter who my parents were and no matter who my father was, I knew who was my Savior and I knew who I was in his kingdom. So that always just instilled in me a great confidence. But actually living by the word, instead of, you know, knowing of the word has really been a great change in not only the way that I live really the way that I carry myself.

"Just growing up, you know, I was always was a guy that wanted to be liked, that wanted to be like everyone else, not really understanding that the platform that I had was different than others'. Not really understanding that God expects more from his leaders than he does of people that are not really committed to him. So being raised up like that, being raised with that foundation, I got to see really quickly that living the wrong way was really not working out for me."
Interesting opening up from Jameis, who was very relaxed during the interview.
Later asked to name the greatest lesson he's learned in the NFL, Jameis advised all young people to make God their source and to find a person to guide them closely and be invested in them fully. Jameis said in his first year in the NFL he "was trying to do this thing by myself."
Joe's glad Jameis is feeling great about his place in the world, spiritually and otherwise. That can only help him on the field, and Joe's all about the football on these pages.
Inner peace, clear direction and great personal guidance is fantastic if it cuts the turnovers.
Another interesting nugget, Jameis went on to talk about how Gerald McCoy last year lamented how players weren't showing up in good numbers to the bible study he led at One Buc Palace. So Jameis suggested it be brought into the locker room and, he said, it was successful. Jameis said it was good for teammates to see that team leaders don't have all the answers.
Being a quarterback off the field is very important, Jameis said.