Bruce Arians: Carlton Davis & Vernon Hargreaves Are Outside Cornerbacks
March 26th, 2019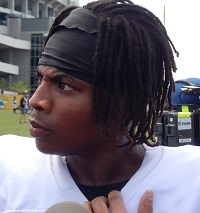 UPDATED 3:01 p.m. – Bucco Bruce Arians made it very clear this morning how high he is on Vernon Hargreaves.
And no, that's not a marijuana joke about the Bucs' 2016 first-round pick.
Arians talked about how he and his staff liked Hargreaves in the 2016 draft for the Arizona Cardinals' blitz-and-blitz-more scheme. Why? Because they thought Hargreaves could cover on the outside.
Enter Mike Smith and his passive defense that didn't feature Hargreaves in that role much with the Buccaneers, and then Hargreaves was demoted to nickel.
Today at the NFL Owners Meetings in Phoenix, Arians said he has "great confidence" in Hargreaves and Carlton Davis to be his outside cornerbacks.
"If we have to take Vernon and put him at nickel, I don't know who that is yet," Arians said. "So let's find a nickel. Let's leave Vernon out there where I know he can play and be effective."
Arians mentioned no other corners.
"I think what we're going to do with them is going to be more advantageous to them," Arians said. "Get up. I got you. Beat my ass. We're not sitting back read-and-reacting, schemes and stuff. We'll have some of it, but we gotta get in your face and play man-to-man and get after you. I think it lets their personality come out more."
Arians was specific about Hargreaves stating that the Bucs will need to find a nickel corner to keep Hargreaves on the outside.