Hargreaves Says It Wasn't Marijuana
June 1st, 2018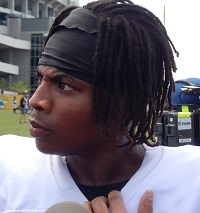 It's been a couple of months since the Vernon Hargreaves smoking video emerged, quickly putting a darker cloud over the Buccaneers' first-round pick of the 2016 NFL Draft.
Since, Hargreaves has been working hard and trying to earn a starting job through spring conditioning and practices.
He chatted at One Buc Palace this week with Rick Stroud of the Tampa Bay Times and said that it wasn't marijuana he was smoking in that brief and mysterious video.
Hargreaves also said he has been a disappointing but "average" player through his NFL career.
"Well, the first two years I've had, they've been down years," Hargreaves conceded following the Bucs' final organized team activity Thursday. "They've been average. You know, as a first-rounder, obviously, they're expecting production. It's plain and simple. It's not that complicated. I haven't been producing."
There was more from Hargreaves, but what's clear is he has the right attitude. He knows he has been a bust so far, getting benched and forcing management into investing heavily at cornerback.
Hargreaves turns 23 next week and Joe certainly isn't counting him out. He wouldn't be the first talented and young cornerback to need a couple of years to mature and realize he can't rely on pure athleticism in the NFL.