"I Want That Sh*t Off"
March 26th, 2019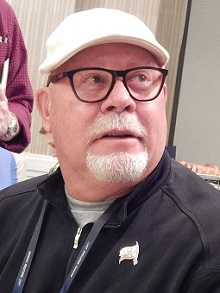 Things are going to be very different around One Buc Palace when players report for work next week, and Bucco Bruce Arians confirmed to Joe today that they'll be a lot quieter, too.
A majority of NFL practices feature blaring music. It's a pet peeve of Arians and he's said many times it was something that stunned him when he was a broadcaster last year attending various NFL practices around the country.
Even Belichick, Arians noted.
Arians had said he might have to consider it for his practices, so Joe asked the head coach today whether a decision was made on music, at least for the upcoming spring training sessions known as OTAs.
JoeBucsFan.com: Have you made a decision on music in OTAs?
Bruce Arians: It won't be in OTAs. Too much teaching going on.
Joe: Silence.
Arians: Yeah, I mean I want that sh*t off so I can tell this guy what to do.
So there you have it. Arians is a very progressive coach in many ways, but don't mess with his valuable practice time and anything that takes away from teaching, a theme he repeated in many ways this morning at the NFL Owners Meetings in Arizona.