Dirk Koetter Sporting Undefeated Mentality
July 16th, 2018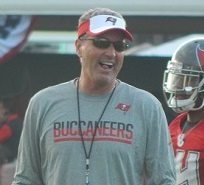 Joe has written many times that this Buccaneers team is brimming with confidence, overflowing. 
The reason is simple: the players and coaches look around and see more talent than they've ever seen before.
You don't hear Dirk Koetter bellowing like Lovie Smith used to when he took over the Bucs. "We're a 4-12 football team," Lovie said over and over.
In fact, Koetter talked to his hometown Idaho State Journal during his vacation and admitted he is as high as ever about his team.
"Every year you feel like you are going to go out there and be 16-0," Koetter said. "This year is no exception."
Joe sees the talent. Anyone could. The Bucs should be better at running back and offensive line, and at receiver and tight end with the 2017 rookies there now having experience. The Bucs are immensely more talented along the defensive line. Three draft picks are competing in the secondary and the Bucs have two stud linebackers in their prime.
Now it's about putting it together.
All that talent really puts the Ryan Fitzpatrick X-factor in the spotlight. If the Bucs can find a way to a winning record with Fitzpatrick, Koetter will continue to be steaming with confidence. And then what at QB?