Dirk Koetter Names Five Players He Thinks Would Be Good NFL Coaches
September 23rd, 2017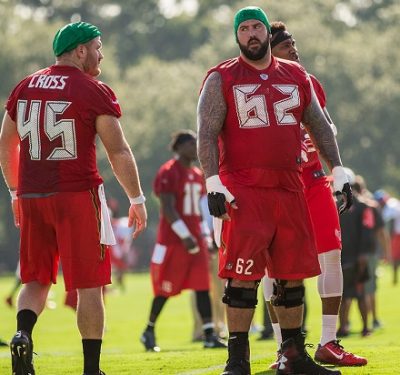 Kudos to winning head coach Dirk Koetter, fired up fan of the Stick Carriers. 
The man isn't up for the magic of a sports bar on an NFL Sunday, but he is willing to be a man of the people and take what the fans throw at him.
What would one expect from a guy who as a kid slung canvas bags over his shoulders and bicycled a paper route all around the mean streets of Idaho?
(Joe often substituted for a friend who had the same kind of paper route. Tough duty was Sundays, when Joe would wheel around a shopping cart filled with papers at sunrise while dodging skunks.)
Koetter takes all kinds of direct questions from fans on his weekly trip to the Buccaneers Radio Network. Yesterday, he was asked what current Bucs would make great coaches. The inference was coaching in the NFL.
Koetter went right to America's Quarterback, Jameis Winston, offering an example of how well Jameis already works with kids at his football camps.
Also on Koetter's short list were Luke Stocker and Keith Tandy.
Evan Smith made the cut, but Koetter joked that Smith's players would hate him because he would talk too much.
And Clinton McDonald rounded out the list.
Koetter added that NFL players now make so much money they don't have to coach.
Joe gets what Koetter is saying. For example, a marginal player like Stocker is completing a three-year, $4.8 million contract. But most guys still want more cash and aren't willing to retire at 30. Just take Koetter, he earned millions coaching college football long before he got to the NFL as a coordinator. He didn't have to coach in the NFL, either.