Fan Experience Leaves Dirk Koetter Sore
October 20th, 2016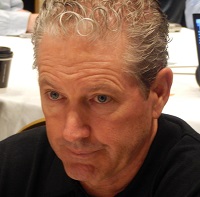 During the Bucs' bye-week Sunday, head coach Dirk Koetter was an NFL fan just like millions of other men and women.
He sat down at a local establishment with every game blaring on TVs surrounding him.
The scene didn't agree with Koetter, so he explained on the Buccaneers Radio Network. It seems Koetter prefers the serenity of the couch, a cold beer and a remote control.
"My son and I went to a little spot to have lunch on Sunday [during] the 1 o'clock games," Koetter said. "And we went to a particular spot that had every game on TVs. After about five minutes, I looked at my son and said, 'I don't know how people do this.' Because there were so many games going on, my neck was sore from trying to watch them all.

"There was a pretty good contingent of people there watching New England, so every time they would do something [there was a reaction]. I was trying to watch the Carolina-New Orleans game because it was a division game. Yeah, it's just a real different experience when you're in the NFL, to have that [time] off and to watch it like that. It's fun one time a year, but not as fun as being out there doing it."
Perhaps Koetter had neck soreness from those Patriots fans. They always give Joe hives.
However, Coach definitely needs to learn the proper sports-bar skills. You watch one game, and only watch others during commercials of your main game. Also, you drink enough beer to make sure any ensuing neck pain or bar-stool-butt is alleviated. And Joe has learned there's no discomfort that the dessert menu can't cure.