Clay Fits "Underrated" Mold
July 12th, 2015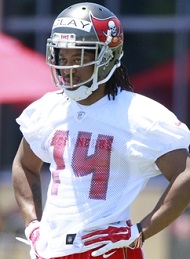 While there are plenty of high hopes around Tampa for fifth-round rookie WR Kenny Bell, one national observer thinks the Bucs got better value in Round 6.
Doug Farrar, of TheMMQB.com, penned a deep look at the Buccaneers' offseason and tagged versatile Kaelin Clay as the team's most underrated draft pick.
The Bucs don't have a lot of depth at receiver behind Jackson and Evans, but Clay has the potential to change that over time. With just one year at Utah after a junior college stint at Mt. San Antonio College, Clay led the nation in punt return touchdowns with three and the Pac-12 in punt return yards with 346, adding a kick return touchdown for good measure. Tampa Bay didn't get much out of its return game last season, so Clay could make an immediate impact there. He also gained 523 yards and scored four touchdowns on 43 receptions, and with time, he could be an estimable speed slot receiver for a passing game that's still looking for definition.
Based on practice observations, Joe can say that Clay runs very crisp routes and looks like a real NFL wide receiver, surely better than last year's sixth-round pick, Robert Herron.
Clay, though, was drafted to be the next Devin Hester, the guy who wanted to play for the Bucs but Lovie Smith let the Falcons snatch him last offseason.
Joe's hoping Clay can translate his college return magic to the NFL. The Bucs have been aching for a stud returner since the filthy Panthers destroyed 2008 Pro Bowler Clifton Smith's career with a cheap shot to the head. If Clay can't look the part in preseason, then Joe expects veteran Bobby Rainey to win the returner gig by default.