Are The Basics New?
July 12th, 2015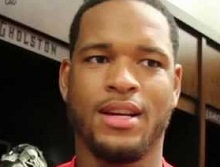 A great video surfaced last week of a current and former Buccaneer soaking up hands-on coaching from a Hall of Famer.
Via this Twitter link, you can watch Will Gholston and Adrian Clayborn getting a detailed pass rush lesson from Hall of Fame sackmaster Chris Doleman.
Watching the video, Joe got a feeling that the fundamentals Doleman was passing on were new to his students.
Joe sure hopes that's not the case — not after years under multiple Bucs position coaches and regimes.
It always amazes Joe that defensive ends come out of college — major football programs — and are said to have no pass rush moves or just one move. What the hell are these guys doing in practice and what are their highly-paid coaches teaching them?
Props to Gholston for investing his time to improve during his vacation. As for Clayborn, Joe might just vomit if Clayborn repeatedly abuses Donovan Smith this season.