The Leadership Fit
April 2nd, 2015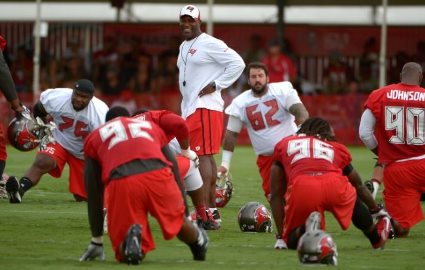 It should be clear to everyone who has studied Jameis Winston this week, and through the past couple of years, that the guy is a leader.
He can't help it.
Winston is a people person. He was seen rallying teammates regularly on the Florida State sidelines when he was a redshirt freshman waiting to play.
Perhaps that makes him an ideal fit on the Buccaneers? One ex-Buc thinks the team is "devoid of leadership," especially on offense.
To a man, Buccaneers players on both sides of the ball would claim Josh McCown was a major leader of the team last year. Even Lavonte David tipped his cap in McCown's direction.
McCown, thankfully, is gone. That leaves a void, assuming McCown knew what the hell he was doing when it came to leading a football team. (Don't ask Joe to bet on that) Also, the hiring of McCown in the first place represented Lovie Smith seeking a vocal leader to take over his offense.
Enter Winston. The table seems set for him to not only be drafted by the Bucs, but to take over their offense in all aspects. It's not like anyone on the roster will put more study time in to the offense than Winston or Mike Glennon.
Winston simply is not a guy you're going to tell to chill out for a year, or half a year, or a month while you have Glennon take the majority of reps. Joe just can't see Lovie Smith playing it cautiously with Winston, unless Winston proves that he's not ready in the spring.