"They're Really Devoid Of Leadership"
March 23rd, 2015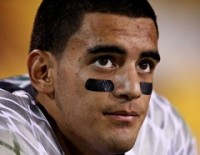 Harsh words from a former Tampa Bay Buccaneer implied that the team can't afford to draft University of Oregon quarterback Marcus Mariota.
Shaun King, one of three Bucs quarterbacks to lead Tampa Bay to the NFC title game, joined Pro Football Talk Live on NBC Sports Radio on Friday and explained why personality matters when it comes to drafting a QB.
King was asked about the powerful report claiming the Bucs don't like Marcus Mariota's laid-back personality. He said the Bucs' roster needs something else.
"I think it's very important. Every locker room is different, and when you look at Tampa, they're really devoid of leadership," King said. "Gerald McCoy is kind of an outspoken guy. But that's really it. Vincent Jackson is more of a laid back, lead by example. And they haven't had a quarterback."
King, who works for Yahoo! Sports, noted how during the small ESPN preview released of Mariota joining Chucky for his made-for-television QB Camp, Mariota struggled to spit out "strong right slot, Z-right, spider-2-Y-banana, Z-over." That illustrated his learning curve of calling plays, King said, and that also could be scaring off the Bucs.
"The time frame needed for him to develop, to me is what Tampa is looking at as a concern," King said. "If it takes Marcus two years to get everything physically and mentally, do Lovie Smith and Jason Licht have that kind of time frame to wait for a quarterback to develop?"
Joe found King's assessment that the Bucs are "devoid of leadership" rather interesting. Joe must agree when it comes to the offense. Heck, the bell cow offensive lineman couldn't manage to organize a barbecue, and there really is no voice of the unit.
On defense, Joe would disagree. McCoy is a very strong leader, as is Clinton McDonald, who earned his Super Bowl ring in Seattle. And Lavonte David commands tremendous respect in the locker room, as did Dashon "Hawk" Goldson. Alterraun Verner also is a very intelligent guy with credibility.
As for whether Lovie could afford to let Mariota work through a rough transition, well, Joe's not sure. It's rare for a coach to return, like Lovie has, after earning the No. 1 overall draft pick. It would be even more rare for that same coach to return again following a five-win campaign.