Lavonte David Talks Koetter, QBs & More
January 11th, 2015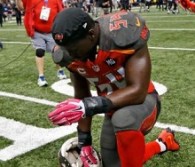 Wait a minute.
Lavonte David engaged in a quarterback discussion last night and didn't reference Josh McCown or Mike Glennon?
A few weeks ago, David talked about McCown being an incredible leader in the locker room.
Last night, David joined Joe's friend Chris Fischer, of WTSP-TV, Ch. 10, for some special TV time. Joe's got a video cut below.
David calls Florida State quarterback Jameis Winston a "complete winner" and says he "has that fire to him." He said Oregon gunslinger Marcus Mariota is a "complete playmaker" who "knows how to find players."
As a guy who's lined up across from a Dirk Koetter offense, David said he likes the way Koetter establishes the run and uses weapons.