Bucs Finalize Offseason Dates
April 2nd, 2015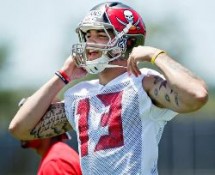 You know the start of training camp is inching closer when the Bucs announce all of their offseason practice dates.
The NFL released each team's schedule today.
As has been previously reported, the Bucs will arrive for OTAs (offseason training activities) April 20. Rookie minicamp is the weekend after the draft, or the second weekend of May.
OTA workouts will be May 26-28, June 2-4 and June 8-11.
Mandatory minicamp will be June 16-18, and then team will break and not return until training camp, which tentatively opens in late July.