Josh Freeman Signs With Dolphins
April 2nd, 2015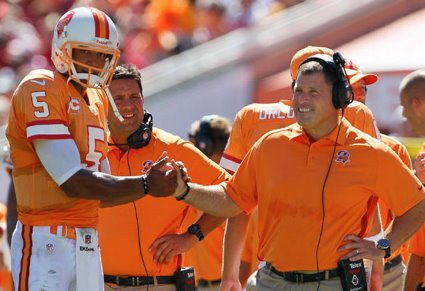 Former Buccaneers franchise quarterback, leaky, sleepy Josh Freeman, appears to have a new team, the Miami Dolphins.
Greg Likens, who works for the Dolphins' official website, was Twittering about an imminent signing earlier today. And longtime NFL writer Mike Freeman, of BleacherReport.com, claims it's a done deal, a one-year contract.
Joe's happy for Freeman. His camp clearly had interest around the league, otherwise Freeman would have been at the inaugural NFL veterans combine last month in Phoenix. Freeman worked out for the Jets in March, and the Dolphins signing sort of comes out of left field.
Remember, Dolphins general manager Dennis Hickey was former Bucs rockstar general manager Mark Dominik's right hand man in Tampa.
The Bucs play the Dolphins every year in preseason, which means Freeman, if he's still on the Dolphins' roster, would be getting all kinds of playing time against the Bucs. That sure would be fun.