Jameis Watch: "I Guess They Just Love Me"
January 18th, 2015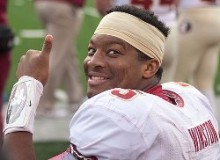 Crab-legs-stealing, BB-gun-shooting, obscenity-hollering, Heisman-Trophy-winning, former national champion Jameis Winston, the pride of Florida State University, continues to look like a much better quarterback prospect than Mike Glennon and Josh McCown.
It's Joe's daily nugget on the Jameis Watch, celebrating the best quarterback to wear No. 5 ever in the state of Florida.
Joe knows Winston haters will somehow find fault with the video Winston shared on Instagram yesterday. You can watch via the SI.com cut below.
Joe really feels sorry for these folks. Frankly, Joe likes seeing Winston's sense of humor, and his willingness to post video of himself not looking his Sunday best.
Buccaneers officials should take note. The ducks seem to soothe Winston. Perhaps the team should start looking now for housing that has mallards in the neighborhood.