"They Take It Very Personally"
January 18th, 2015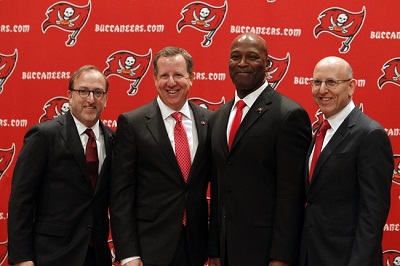 Fans may not always like their moves and methodology, like firing Jon Gruden with three years and $15 million left on his contract, but Team Glazer yearns to win and is driven to win.
Veteran Tampa Tribune scribe eye-RAH! Kaufman offered rare perspective on Team Glazer in a piece he penned on the Glazer family's now 20 years of Bucs ownership. You can read the whole thing here.
In addition to checking in with Team Glazer, Kaufman talked to former Tampa Bay general manager Rich McKay and Bucs icon Ronde Barber. They painted Team Glazer as passionate and probing.
"They give you the resources to win, they support your decisions and they never stop asking questions," McKay said. "I never had fear they would second-guess what we were doing, but they always want to understand the logic behind it.
"All you have to do is sit in the suite with them for one game and you'll realize how much they want to win, but I never thought they were meddlesome. Challenging? Inquisitive? Yes, they are. Malcolm empowered his sons to run the business, but when there were big decisions to be made, he didn't hesitate to weigh in."

Ronde Barber, who spent his entire 16-year career with the organization, is proud of the close personal relationship he built with ownership.
"It's a far-fetched and silly notion to believe an organization worth more than a billion dollars is not looking for success on the field, even with revenue sharing and even with all the owners knowing they will make money," Barber said. "I know how the Glazers react to wins and losses — they take it very personally. And if the results aren't up to their standards, they'll make big changes. They don't settle for the status quo."
Man, reading Barber's quote, Joe can only imagine how rough 2014 was on Team Glazer. Yeah, the No. 1 overall pick is great, but it also is humiliating. Remember, the Bucs are 30-70 in their last 100 games.
Barber spoke of Team Glazer demanding results meet "their standards." Joe wonders what Lovie's magic number is for 2015. Joe's pretty sure another basement finish in the NFC South won't cut it.