"Whatever Team Gets Him Is Going To Be Great"
January 18th, 2015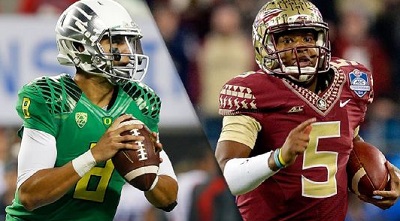 A true NFL great, a quarterback before his time, a guy young Joe worked with on a TV game show in 1993, issued a powerful endorsement for one of the premier college quarterback prospects.
The man doing the talking was Randall Cunningham.
You want to know how much the NFL has changed? During Cunningham's rookie class, in 1985, three running backs were taken in the first round, and Cunningham was the first quarterback drafted overall — in Round 2. The bungling Bucs took defensive end Ron Holmes at No. 8 overall — because they had Steve Young on the roster and weren't interested in drafting Jerry Rice or other '85 studs like Al Toon. Doh!
Anyway, Cunningham is all in on the Marcus Mariota bandwagon, as you can see in the Comcast SportsNet video below.
"Whatever team gets him is going to be great," Cunningham said.
The former Eagles star likes the way Mariota's teammates respect him and he likes his parents choice of soft drinks.
"If you saw what happened when he got hurt, his offensive linemen got emotional and took personal fouls because they loved their quarterback so much," Cunningham said. "They love Marcus. When you look up in the stands and see his parents, they're not drinking beer and acting crazy. They're respectable people and that's what you're going to get out of a kid like that."
Joe's not sure whether Cunningham was taking a shot or Jameis Winston's family or just likes conservative fans. He is an ordained minister. Regardless, Philly fans like Cunningham will continue to pray daily that the Bucs make a miraculous trade down and send Mariota to back to Chip Kelly.
Keep dreaming.