ASJ Is Proud Of Penalty
November 10th, 2014
If you want to know what is wrong with the Lovie Smith era, Joe has it all in one microscopic social media post.
It demonstrates that whatever Lovie is telling his players, it's not sinking in.
Before Joe gets rolling, one of his favorites in the Bucs locker room is Austin Seferian-Jenkins. Joe loves the guy's attitude (not to be confused with "tude."). He is talented as hell and Joe is convinced he will be a stud player.
Yesterday, however, ASJ did a downright dumb thing. After scoring a touchdown, he put himself before his team and seemed to think that despite being in a tight battle with a division foe, it was more important for him to strut and use the football as a prop — and get his team flagged for a penalty.
It was stupid and helped set up the Dixie Chicks' game-winning touchdown. OK, you could argue the defense should have stopped the Dixie Chicks, but ASJ sure as hell helped paint the defense in a corner with his stunt.
Despite ASJ being asked about the penalty after the game, and Lovie scolding him indirectly in his press conference, ASJ, full of pride about the penalty, took to Instagram to brag, replete with a photo of it, since deleted, but with this little message:
Everybody has a little captain in them. #ItsABucsLife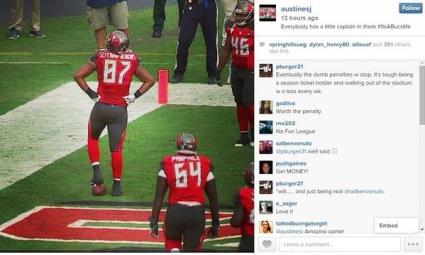 Right there is what is wrong with the Bucs. Lovie is the head coach. He is the teacher. Coaches are teachers. Lovie said yesterday he had explained to his players about celebration penalties. Either ASJ was in the trainer's room at that moment or Lovie's message isn't getting through.
And apparently, that's not the only thing not getting through to the Bucs; look at the way the Bucs defense has played; Lovie's defense.
When Lovie made the move to Josh McCown last week, Joe thought it was a panic move in a desperate attempt to get a win or two, nevermind screwing with the "Quarterback of the Future's" head and development. Lovie, it seemed, figured he better get a win soon or he was going to lose his team.
ASJ's stunt and the play of the Bucs tells Joe that either Lovie has never had the team or has already lost it.
Hat tip @tbassfootball on the screengrab.