Brand New Territory For Lovie Smith
November 10th, 2014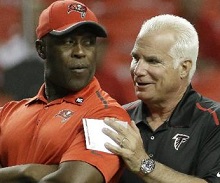 During Year 1 of the Lovie Smith regime in Chicago, somehow, someway, that quarterback-challenged club learned how to play the Tampa-2 defense quickly and jumped out to a 4-5 record. In seven of those nine games, that Bears team held opponents to 20 or fewer points.
Man, Bucs fans would kill for that kind of production.
For some reason, these Bucs aren't learning defense properly. Just ask Ronde Barber.
Borderline insane Bucs fans like to compare Year 1 of Lovie's Tampa Bay reign to that of Father Dungy's first season back in 1996. Nothing could be more inappropriate.
When the '96 Bucs moved their record to 1-8, it was a very different from the current debacle. Tampa Bay had allowed 13 points per game in each of its previous four games. That's right, four consecutive games of allowing 13 points.
Those Bucs had were building something. The current Bucs, well, they're embarrassing.
Joe's point is that all this losing and lack of progress is brand new territory for Lovie. He has no experience leading such a steaming pile of dung.
How Lovie responds — and how his team responds — should be under close scrutiny by Team Glazer.