Hawk Blessings Go To Hawkins, Herron & Evans
August 16th, 2014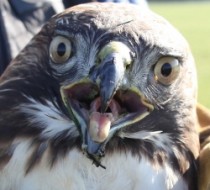 There are lots of new faces in the Bucs receiving corps, and a chunk of them will stick on the roster.
Yes, the Bucs have holes to fill after Tiquan Underwood didn't get a return invitation and blade-in-the-thigh, mattress-in-the-yard Mike Williams was shuffled to Buffalo.
This week, Joe got a chance to ask safety Dashon "Hawk" Goldson who impresses him among the crop of new pass catchers in Tampa.
Hawk did not name Louis Murphy or training camp standout Tommy Streeter. The three that rolled off his tongue were rookies Mike Evans and Robert Herron, plus seventh-year veteran Lavelle Hawkins, who played for Jeff Tedford at "Cal."
Considering Hawk repeatedly has been called a highly intelligent football player and a coach-like figure by Lovie Smith, Joe thinks Hawk's picks are worth nothing. Joe knows fans love to play coach-GM and make roster predictions, so this kind of nugget adds to the debates.
There's still a ways to go in preseason, but at this point Joe would consider Herron a lock for the roster. Hawkins is surely bubble material, but he's played special teams through his career and there's probably a trust factor there with him as a receiver.
Special teams is a serious mystery with this Bucs team; it can't be ignored and Joe is sure there will be a final-roster surprise or two or three, off-the-radar guys who make the team solely for special teams.